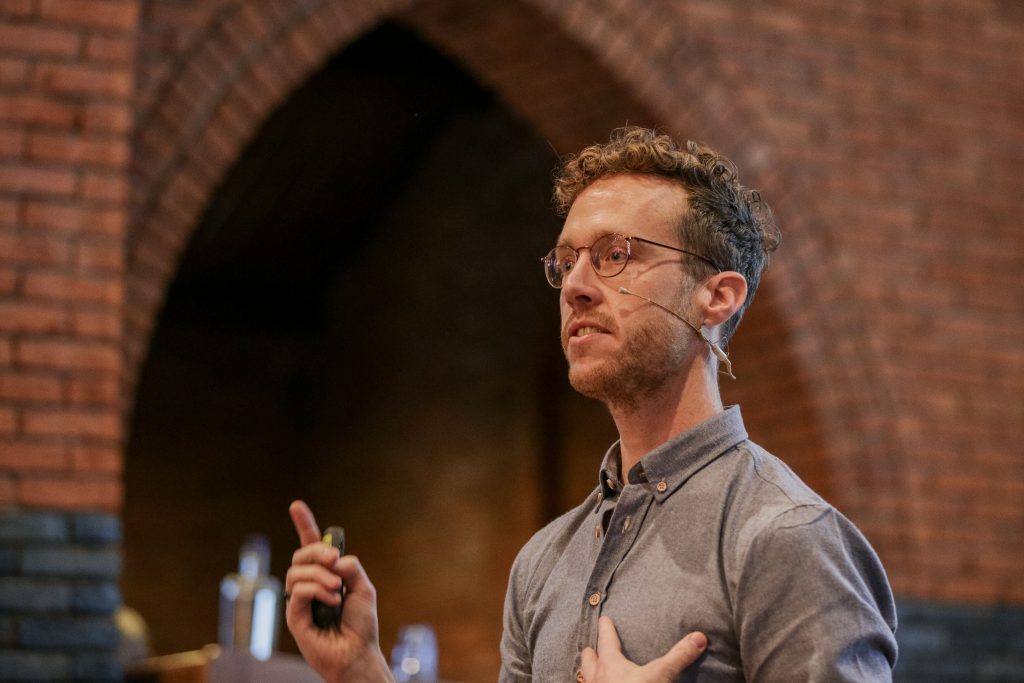 Are you curious about the impact of human enhancement, human augmentation, biohacking or biotechnology on your company or organization? Do you want me to think about product development, innovation or strategy? Then hire me as a consultant.
As a health care innovator, future thinker and biohacker, I regularly advise on new technology and its impact on individuals, education, health care, government and society.
I coordinate the form of the advice with the client. The most common form is that I was hired as an expert word for trend analyzes, foresight studies and strategic sessions (about innovation, technology and policy).
EXPERTISE
As a biohacker I have been doing all kinds of experiments with wearables, gadgets and other new technology for years.  In addition, I draw on my knowledge of 100+ interviews for my podcast and YouTube channel with leading scientists, philosophers and experts in the fields of biotechnology, artificial intelligence, genetics, algorithms and much more.
For example, I interviewed Jamie Metzl (author Hacking Darwin), Aubrey de Grey (SENS Foundation), professor Julian Savulescu (Oxford) and professor Michael Bess (Nashville).
In addition, I keep up to date with the latest developments by reading professional literature, the latest news and relevant books on these themes. I also write articles about this on my website and in 2020 I wrote the book Future of Humans: the impact of biohacking.
Form
I coordinate the form of the advice with the customer. The most common form is that I am hired as an expert for trend analyzes, foresight studies and strategic sessions (on innovation, technology and policy).
In addition, I supervised workshops, I participated in expert meetings, I led scenario sessions and I did one-on-one sparring sessions. In addition to my existing knowledge and skills, I do desk research in advance and, if desired, (telephone) interviews to clarify the organization and the context in which you operate. My consultancy work can take place on location or digitally via online conferences.
Perspective
My starting point for trend analyzes is a statement by William Gibson: "The future is already here, it's just not very evenly distributed." This means that I explore developments based on smaller trends that are already visible. The time horizon of trends and developments is usually between 5 and 25 years.
Preparation
No consultant is an expert in everything. For that reason, I am transparent within which my expertise lies and in which it does not. Beforehand I send an overview of the areas in which my expertise lies (such as healthcare innovation, biohacking, biotechnology and the influence of technology on society), in which I have a fair amount of knowledge (such as artificial intelligence and genetic modification) and in which themes I limited have knowledge (including quantum computing and generation Z).
Science journalist
In addition to consultancy, as a science journalist I write articles about digitization, healthcare innovation, biomedical technology and the influence of technological progress. As a science journalist I wrote articles for Public Thinking (about the impact of technological developments on the government), MKB Team Magazine (about the future of sustainable employability) and Paneuromix (about cognitive improvement).
In addition, I advised on the use and design of podcasts about science for the NRC Handelsblad and NWO.
Rate
My standard hourly rate is 497 euros (excl. VAT, travel expenses, etc). The price depends on the commitment, duration and additional wishes. Please contact me for the possibilities.
Clients
Including: Rathenau Institute, Ministry of Security & Justice, Achmea, Personal Data Authority, Tax Authorities, Rijkswaterstaat, National Archives, Groninger Forum, NOS, Shareforce, BNNVARA and Ministry of Defense.
From 2010 to 2017, I also worked as a researcher and consultant for (local) governments at a consultancy firm in The Netherlands.
I am active on several platforms, follow me anywhere you like.
LET'S CONNECT
Are you interested in consultancy or do you want more information?
Please use this form to e-mail me. I will respond as soon as possible.