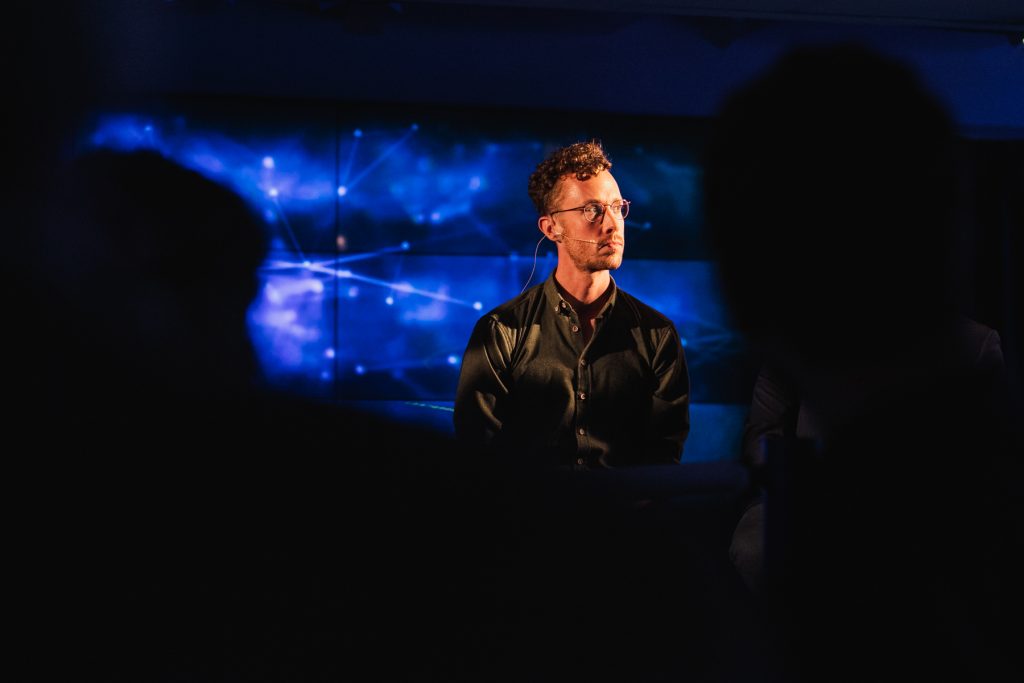 Hire me for a webinar about biohacking, human augmentation or the impact of technology.
Normally I am on stage several times every week, but of course this is not possible due to the current measures because of COVID-19. To continue sharing my knowledge and insights, I now do this in the form of webinars and digital sessions. Think of an online keynote, webinar, livestream with Q&A or interactive session.
My areas of expertise are biohacking, human enhancement, human augmentation and the impact of technology on our lives. I always offer a tailor-made session, so that your organization really benefits from my contribution.

WHY WEBINARS?
Speaking at conferences and symposia is one of the best things to do for me. I love the direct contact with the public and the variety of places I visit. After the announcement of the Dutch government to cancel all meetings and events until September 2020, I wondered if I could also share my knowledge and insights digitally.
My first experience convinced me. Instead of traveling to Warsaw (Poland) for an international conference, I gave an online keynote at the MIT Sloan Management Review Polska Congress to all their subscribers. That was a really awesome session! The theme of biohacking and the corona pandemic was right on topic, the technique was perfect and afterwards there was a lively discussion with the audience.
It was in that moment that I decided that a webinar is an excellent method to transfer my knowledge and experience. Born by necessity, but it saves a lot of travel time, logistical coordination and it is surprisingly interactive!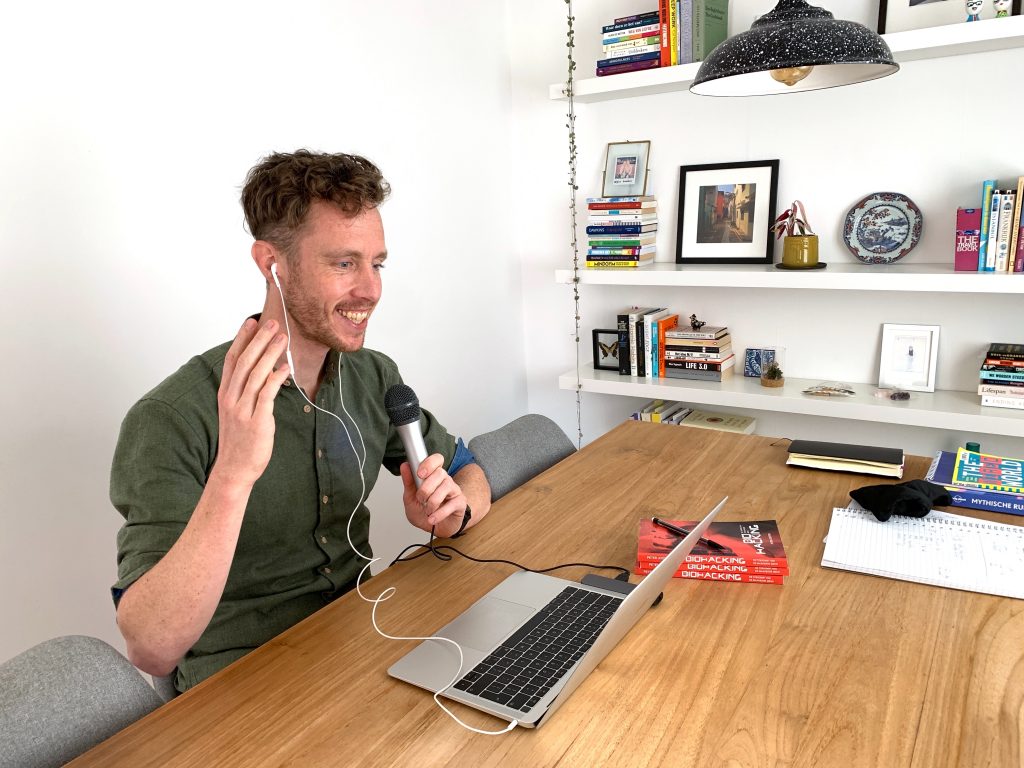 Themes
My areas of expertise are biohacking, human enhancement, human augmentation and the impact of technology on our ives. I always offer a customized webinar, so that your organization really benefits from my contribution.
In the online sessions I provide an overview of the most important developments, possibilities, challenges and ethical dilemmas. My approach is practical, with many concrete examples and interaction with the participants.
For whom?
You can use webinars for a session with your own employees, for (potential) customers and as an online event for external parties. There are plenty of options, so besides my assignment in Poland, I recently completed these assignments:
given an online keynote on the future of healthcare for employees of a major Dutch retailer;
conducted a webinar on genetic modification for members of a health insurer's innovation lab;
a session on Instagram Live about biohacking for Tetem Art Space;
an interactive session on human enhancement for Future Based, a platform for ethics and philosophy.
My digital sessions have a practical approach. I give many concrete examples based on recent developments, stimulate the imagination with science fiction and share personal anecdotes as a biohacker. Interaction with the audience is very important to me, there are questions and quizes throughout the session. The duration of a webinar is between 30 and 45 minutes.
Method
The preparation consists of an intake and going through my concept presentation together. Afterwards, I plan an online meeting with the customer to evaluate the webinar.
Technical aspects
I prefer to work with Zoom, but I can also use other webinar tools (such as Microsoft Teams, Instagram Live and Jitsi Meet). I think the most important thing is to look for interaction with the participants. I have experience with various online working methods, from propositions, a Q&A and break-out rooms. I present myself from a quiet room with a good internet connection and a high-quality microphone.
Rate
The standard price to hire me to give a webinar is 2.000 euro, excluding VAT. The price depends on the commitment, duration and additional wishes. Please contact me for the possibilities.
Expertise
As a biohacker I have been doing all kinds of experiments with wearables, gadgets and other new technology for years.  In addition, I draw on my knowledge of 100+ interviews for my podcast and YouTube channel with leading scientists, philosophers and experts in the fields of biotechnology, artificial intelligence, genetics, human enhancement, and much more.
In addition, I keep up to date with the latest developments by reading professional literature, the latest news and relevant books on these themes. I also write articles about this on my website and in 2020 I wrote the book Future Humans: the impact of biohacking.
Introduction MIT Sloan Management Review Polska Congress 2020 
I am active on several platforms, follow me anywhere you like.
LET'S CONNECT
Do you want more information about a webinar, online keynote or interactive Q&A?
Please use this form to e-mail me. I will respond as soon as possible.